Vendor Spotlight: No Chewing Allowed!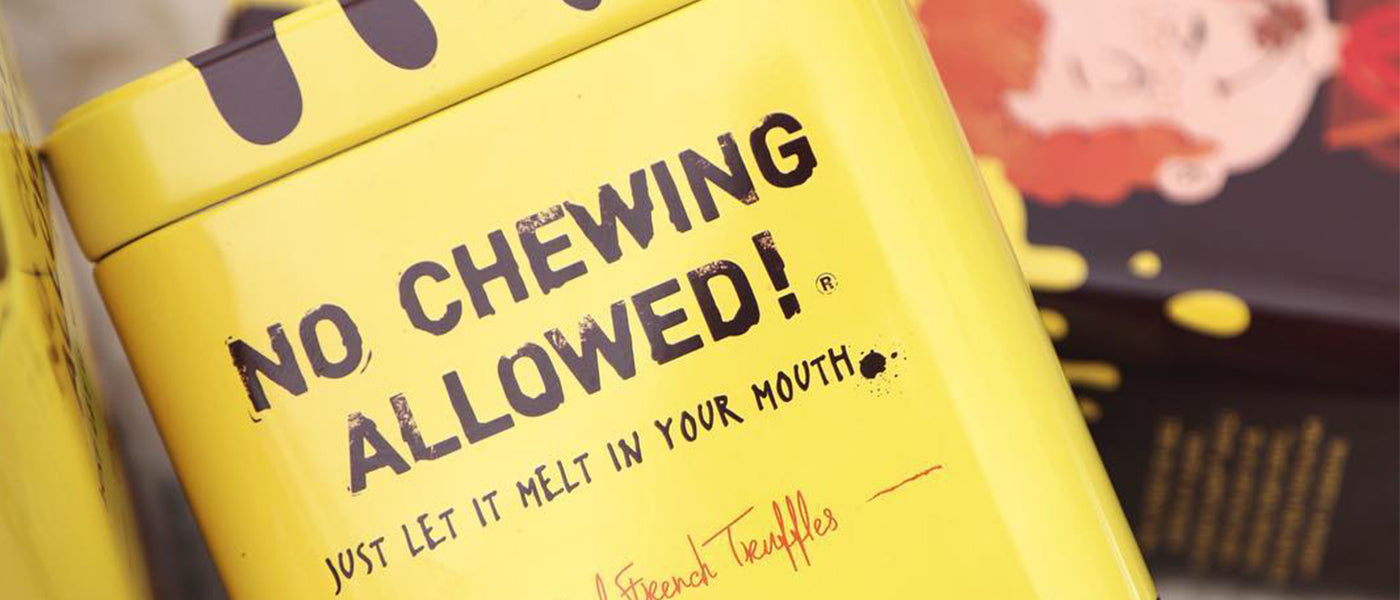 Vendor Spotlight: No Chewing Allowed!
UrbanSpace's Union Square and Columbus Circle Holiday Markets are shopping meccas; however, out of hundreds of vendors, No Chewing Allowed! is a perennial standout.  In my humble opinion, their hot chocolate (complete with a French truffle at the bottom) singlehandedly makes shopping outdoors in December a warm and fuzzy experience.  And while you're picking up your drink, you can purchase a few gift boxes for your chocolate loving friends and family members.  Truly a win-win.

In anticipation for No Chewing Allowed!'s return to the holiday markets this season, we sat down and chatted with Lior Genzel about the business, the truffles and what's next for the brand.
1. How did No Chewing Allowed! begin? What was the impetus behind starting the business?
It's a funny story actually, that goes a long way back. When I was very little my mother was preparing my older sister for her first day of school. Big excitement in the house…. so to keep me from interfering she gave me a piece of chocolate. Well,  when she checked on me again, I was covered with melted chocolate all over, hands, mouth, face, shirt, even the wall behind. I was the happiest child on earth with a million dollar smile on my face. A picture was taken, and that was the beginning of my affair with chocolate.  
Years later, with more industry knowledge, I was driven to re-create the true experience of enjoying chocolate, somehow like this burned childhood memory we all share. Enjoying the smoothness, texture and taste to the full extent. 
When we first introduced our truffles we noticed customers quickly chewing the samples and missing on capturing the whole experience. We pleaded, "No Chewing Allowed!" And the brand name was born.
2. People who try your truffles immediately fall in love with them, myself included. What makes your truffles different from other truffles?
Our truffles are different by taste, melting point and smoothness. Together with following the "No Chewing" instructions we believe they are delivering a truly unique experience. Made in France for three quarters of a century they carry on the roots of the traditional French truffle, which have been passed on from generation to generation.
3. Why no chewing?
If you're chewing it, you're missing it! Missing the experience.
Here's what you do: squeeze the truffle gently between your tongue and upper palate. It will start to melt immediately. Move it around your mouth and feel the rich flavor comes alive. Enjoy the creamy feel of smoothness… mmm!
4. You're a veteran of UrbanSpace's Union Square and Columbus Circle Holiday Markets. What do you enjoy about the market experience?
Union Square and Columbus Holiday Markets offer an amazing diversity of small businesses who are putting their heart and soul into creating unique and wonderful products.  Visitors from all over the world recognize and appreciate it, all together creating an amazing fun atmosphere. We cannot wait to be a part of it again. 
5. What's next for you guys?
Last year we introduced a limited addition of new flavors, the response was awesome and they quickly ran out.  So this year we are coming back with even more new flavors and packages. Our goal is to expand our line of products and create new and exciting experience every year. Come and try them out!
About Rachel Van Dolsen
Rachel is the Principal and Founder of RVD Communications. In addition to handling PR, Social Media and assorted fun projects for UrbanSpace, she also works with restaurants, bars and hospitality clients in NYC and Brooklyn.
---